7 Reasons Why YouTube is an Essential Part of Affiliate Marketing
If a photo is worth a thousand words, then a video is worth much more. Video marketing now rules consumer web traffic, and YouTube is considered one of the most efficient platforms for connecting your business along with potential customers.
Marketers have discovered huge success with YouTube marketing for many reasons. For instance, video is an appealing way to reach audiences and share your products easily. Ninety percent of people say that product reviews are useful in the buying process, and sixty-four percent are more likely to purchase a product online after watching a video.
Further, there are substantial advantages to using YouTube for your business. The platform is also an excellent place to share video content as it has a massive audience. With 2.29 billion users each month, YouTube is the second most visited website, second to Google. As you can guess, there is a huge audience here.
The audience is not just big, but it's actively engaged as well. Successful YouTubers and vloggers connect and foster relationships with their fans to the point they become an ever-present fixture like family and friends. Such relationships appear because video conveys a message in ways text can't.
Hearing a tone of voice and seeing expressions allows viewers to create an authentic connection with YouTubers, and sixty percent of viewers say they'd follow their advice for what to purchase. 
Would you like to earn more with your YouTube channel? Fortunately, it is now possible with YouTube affiliate marketing. Below are our top seven reasons you should add YouTube as a vital part of your overall affiliate marketing campaign.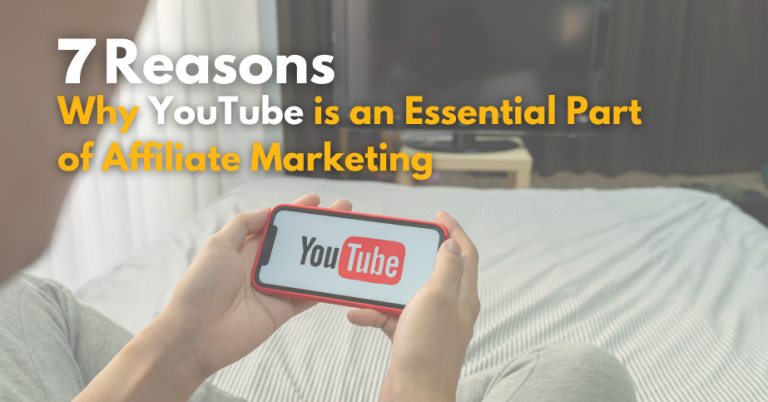 1. You don't need to become a YouTube affiliate
One of the best things about using YouTube and adding it to your affiliate marketing strategy is that it's simple. There's no need for you to register with YouTube to start making video content and add your affiliate links within it. All you have to do is to upload your videos to the creator studio and start optimizing your content. How easy is that?
2. It is the world's second-largest search engine, second to Google
Unbelievably, YouTube is considered the second biggest search engine on the planet, next to Google. Further, it's also the second most visited website. In case you didn't know yet, the platform has more than 2.29 billion users actively logged in on the platform who are ready and waiting to consume content.
People are using YouTube as a search engine, which means they are actively looking for answers to a plethora of questions. That's the ideal place for affiliate marketing to flourish. Trying to rank on page one of Google is often a challenging SEO battle but ranking within YouTube can be as easy as 1-2-3. A few basic optimization strategies can help boost your organic views.
3. Hassle-free optimization
Did you know that over 500 hundred video content is uploaded to the platform every minute? That means the opportunity to cut through the cutter is accessible to anyone eager to put in a bit of effort.
Optimizing your YouTube videos is relatively easy. Apart from tagging metadata of your videos, there are other ways to do that. Some of these steps are as follows:
Do keyword research – A keyword strategy can be utilized for YouTube just as when making SEO-driven content for your blog or website. It's important that you learn what videos other creators are uploading around your targeted product or topic. Try to observe the main videos appearing and ask yourself if they've missed anything that you can cover further in your content.
Does anything come to mind that you could elaborate on? Using your primary keyword in the video's title will also assist. You can then utilize it and other related keywords in the video's tags throughout the script used in the content or within the first sentence of the video description.
Make a detailed description of the video content – It will help if you treat your video description as your mini-blog. You can write at least 250 to 500 words of description. That's less for the benefit of your viewers but more for both Google and YouTube to understand and rank the content.
Transcribe – Make sure you use the keywords many times throughout the video and transcribe it. Remember that transcribing your video looks like a needless effort but doing so makes your videos unique as most content creators prefer to shy away from that added step. That's an excellent chance to help YouTube further understand your content and boost the recognition of your keywords.
Interlink between the content – Ultimately, after the ball is rolling and you have numerous videos uploaded to your account, it will help if you connect the videos to one another to boost views on all of them. One way to accomplish that is by creating a playlist with connected themes.
4. Users are looking for advice and suggestions
Remember this: what works on YouTube works well for affiliate marketing, too: advice and suggestions. The most efficient types of video categories on the platform are how-to's, tutorials, product reviews and top lists. All these content types are suitable to add affiliate links into it and prove that users are seeking advice and buying recommendations.
The survey proves that sixty-eight percent of users have watched a video that helped them make a buying decision. Further, eighty percent of users watched the video at the start of their shopping process.
You see, users are always here, seeking answers and are happy to spend. Creating your video concept around your affiliate links must be easy if you learn your user are already seeking suggestions and recommendations.
5. It provides reliable contents
It has been proven that consumers are more likely to buy from someone they trust. Luckily, your audience probably trusts you or feels some type of connection to you, especially if you've established a dedicated following on YouTube.
Adding affiliate links into your content and suggesting products you believe to your subscribers is a reasonable progression and one that hopefully your viewers will feel comfortable with. Have you established trust with your audience? Then they are far more likely to buy what you are recommending.
What about if you are only starting your YouTube account? Well, it may help to wait to start adding affiliate links within your content until you have established some sort of trust with your targeted audience. That is surely not the rule here, but folks are more likely to buy from somebody they feel an understanding or rapport with.
6. You can create content from anywhere
One of the amazing things about YouTube is that the content does not have to be that polished. Indeed, there are visual advantages to a stunning studio lighting, microphones, and lighting. However, with the proper content that others are seeking, a basic smartphone video could still rank along with network giants with huge budgets.
Keep in mind that there's a massive world (online) out there and that is loaded with different kinds of content. Selecting a specific niche that is not well explored on YouTube is a perfect way to help your video content, and thus your affiliate links stand out from the crowd.
Your job as a publisher is to answer very precise questions around a product or service, especially if it is a topic that has been well covered. It will also help if you experiment with different ways to niche down your video content around a particular topic. Feel free to touch on other associated but probably not directly related contents as well.
You see, affiliate marketing can be a rewarding and lucrative way to monetize your creative content. With its gigantic user base and many helpful features, YouTube provides the ideal platform to distribute your affiliate links while keeping in full control over the quality of your content.
If you are anxious about being too late to the YouTube affiliate marketing game, there's no need to be. Each day, more people come online, and they wish to learn from you on the web. Affiliate marketing is surely a highly competitive area, but there's no need to become overwhelmed.
Just make sure you keep a realistic set of goals, offer authoritative, quality information about the products you promote or review and always be consistent. Onboarding the ideal YouTube affiliates takes research and time, determining whose contents align closely with your brand.
However, it is worth taking the time because the gains obtained from the platform are top-notch. Start creating your business's YouTube affiliate marketing strategy now. Start by joining the BK8 Affiliate's program! It's about time to start your affiliate marketing journey with us.
Click here to get started!
We hope you find this post informative and educational at the same time. Are you ready to start your affiliate marketing journey through YouTube? Feel free to use the tips and ideas mentioned in this post, so you're equipped with knowledge. We wish you the best of luck!