10 Best Bitcoin Affiliate Programs in 2022
Introduced in 2009 and considered as the oldest cryptocurrency to ever exist. Bitcoin by far is still the most wanted cryptocurrency among the public, and its popularity is solely built upon a solid reason — it is the highest-valued cryptocurrency in the world.
The skyrocketed value of Bitcoin has many people are looking for ways to get their hand on Bitcoin for free. The surge in demand for Bitcoin has eventually promotes the born of different Bitcoin-earning programs, including Bitcoin affiliate program.
For those who don't understand affiliate program, it is a program that offers a commission to those who send them traffic. A Bitcoin affiliate program, or cryptocurrency affiliate program, that is, the provider pay their affiliate Bitcoin or other cryptocurrency for each referral via their referral link.
While there are plenty of cryptocurrency programs in the market, choosing the right one can be a difficult task. Which is why we are going to expose 10 best cryptocurrency affiliate programs in 2022 in this article so that this will come in handy when you want to start a side gig in Bitcoin affiliate marketing!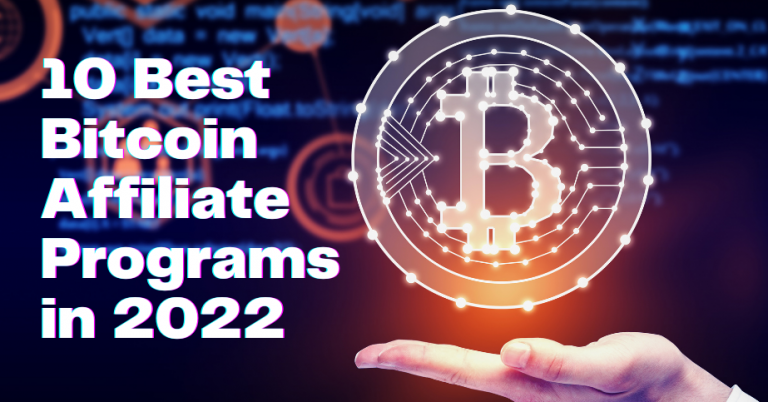 1. Coinbase Affiliate Program
Renowned as the largest cryptocurrency exchange in the United States by trading volume in 2021, Coinbase offers digital currency wallet services and platform for merchants and consumers to meet, trade and transact not only Bitcoin, but also other cryptocurrencies such as Ethereum and Litecoin.
Besides, Coinbase also introduced two types of cryptocurrency affiliate programs which separately targeted to both individual users and merchants. Even though both affiliate programs targeted to different customer segments, but they share the same fundamental — Referrer able to earn cryptocurrency through referring the referee to Coinbase via their personal Coinbase link, it is just that Individual Affiliate Program works as C2C, while Merchant Affiliate Program works as B2B.
Coinbase Affiliate Program is arguably the best Bitcoin affiliate program in the market as Coinbase offers unprecedented rewards to its affiliate without any hidden charges or expiration date.
2. Coinmama Affiliate Program
Based in Israel, Coinmama is a Bitcoin trading solution that offers wallet service to its users to purchase Bitcoins with a credit card or debit card.
Coinmama Affiliate Program allows the referrer to generate referral commission through recruiting new members for Coinmama via a custom referral link.
Although Coinmama Affiliate Program sets a monthly earning limit of $5,000 for each affiliate and charges fees when their affiliate carrying transaction on their platform, but it is still one of the best cryptocurrency affiliate programs as no hidden charges or expiration date were imposed for the affiliate program.
3. Changelly Affiliate Program
Well-known for offering the most user-friendly fiat-to-crypto and crypto-to-fiat exchange services in the industry, Changelly has come out with another user-centred affiliate program — The Changelly Affiliate Program.
Referrer of the Changelly Affiliate Program will be receiving an uncapped lifetime commission depending on the volume of cryptocurrencies traded by your referees. Despite Changelly didn't impose monthly limits and expiration date on this affiliate program, they still charge a fixed transaction (0.25%) and a variable fee (0.50%) on its users.
4. Trezor Affiliate Program
Trezor is a hardware cryptocurrency wallet that providing advanced security for storing Bitcoin and other cryptocurrencies.
Trezor Affiliate Program is somewhat different from the affiliate programs that offered by other providers, as instead of driving traffic via a custom affiliate link, Trezor requires their affiliate to recruit new members through social media channel, like Facebook, Twitter, Youtube, etc.
Once you successfully recruit referee, you will be earning commissions at different rates depending on how many cryptocurrencies they have been trading. No monthly limits, expiration date, hidden fees or charges were imposed by Trezor, so you can rest assured that you will be receiving every penny.
5. Paxful Affiliate Program
Paxful is a customer-to-customer cryptocurrency exchange that allows their user to trade cryptocurrencies with other users.
Affiliate of the Paxful Affiliate Program will be receiving uncapped commissions at different rates depending on how much volume of Bitcoins was traded via your referral link in the past 24 hours.
Despite offering uncapped commissions to its affiliate, Paxful is charging transaction and withdrawal fees (0.99%-0%) on its users and the commission is not last for lifetime.
Like Paxful, CEX is also a customer-to-customer cryptocurrency exchange that provides Bitcoin or other cryptocurrencies trading services among users.
However, you might find CEX Affiliate Program is rather a limited Bitcoin affiliate site as CEX sets monthly limits, expiration date, and require their users to purchase at least once at their platform before you can earn money off your referrals.
7. Kraken Affiliate Program
Established in 2011, Kraken has been around for more than a decade, and it is still one of the best cryptocurrency exchanges in the world. Although Kraken is a go-to cryptocurrency exchange for most merchants and users to meet and trade, but their affiliate program is hard to make money off!
Kraken requires all the referrer to achieve certain monthly volumes before they are eligible to receive commissions (0.01% per volume) based on the total volume of cryptocurrencies was traded. Affiliates will have to achieve approximately $100 worth of trading before getting paid!
Even though Kraken Affiliate Program comes with a downside, but it doesn't mean that Kraken Affiliate is not worth to join, though! As Kraken Affiliate Program comes with lots of exclusive features that you couldn't found on other Bitcoin affiliate sites, for example, live webinars about various cryptocurrencies.
8. eToro Affiliate Program
eToro is a popular Bitcoin broker and social network that enables the traders to make profits by simply copying the trading strategies of other traders.
Now you can also earn cash for joining eToro Affiliate Program. Before you get started, you will have to understand the mechanic of eToro Affiliate Program, as they have introduced "social points" in conjunction with their cryptocurrency affiliate program.
If your referee unable to accumulate at least 500 social points after signing up through your referral link in the past 24 hours, they will not be allowed to withdraw or trade with these funds. If this happens, you, the referrer will not be able to receive any monetary reward either.
9. LocalBitcoins Affiliate Program
One of the oldest and most popular Bitcoin exchanges in the world, LocalBitcoins has also introduced their very own Bitcoin affiliate program, but it is not recommended for beginners as all referees are required to make at least two transactions (Buy or sell Bitcoins) within 24 hours after their registration via your referral link.
 This can be one hell of a task for new Bitcoin affiliates. A good advice for those who still want join LocalBitcoins is start and familiarize with a much new member-friendlier program first, then come back to LocalBitcoins later.
10. KeepKey Affiliate Program
Specialized in providing Bitcoin security services and enables its users to trade and store their crypto coins in a secure hardware wallet, KeepKey dropped a banger in affiliate industry, as their program giving out 25% of commission rate to all referrer, and it is certainly the highest return Bitcoin affiliate program out there.
The high-return affiliate program does not come without a downside for affiliates, as KeepKey has the strictest requirements out of all Bitcoin affiliate programs, it is advised to read their terms and conditions carefully before joining their cryptocurrency affiliate program.
Now that you have a brief idea on the 10 Best affiliate programs in 2022. Out of these options, there must be one or two will come in handy if you decided to kickstart your cryptocurrency affiliate campaign. Keep in mind that each platform shines in their own way, it is impossible to find a perfect platform to start.
Therefore, it is important to understand the pros and cons of each platform before joining their affiliate program, but in general, beginner-friendly platform is usually better than those that aren't!
Also, if you are not a cryptocurrency trader nor having a crypto account, but are interested to join a cryptocurrency affiliate program, we recommend you to visit one of the most beginner-friendly cryptocurrency affiliate program in the market, BK8 Affiliate to get your hands on free cryptocurrencies!
Backed up by renown individuals from various industry, such as Robin Van Persie, BK8 offers up to 45 % of commission rate to its affiliate! Check out their affiliate now to kickstart your wealth creation journey!
Wondering where to spend your crypto coins after earning it for free? Check out 9 Major Campanies That Accept Cryptocurrency to find out more about this!
Join BK8 Affiliate Program Now!