5 Proven Ways To Do Affiliate Marketing Without A Website In 2022
Affiliate marketing is among the most reliable means of making money online, even without investing any money. All you need is your time, a computer, and reliable internet. For those new to this topic, affiliate marketing involves adding links to a third-party product or service and earning a commission when someone purchases through a link you share.
Most individuals believe that affiliate marketing necessitates the creation of a personal or business website. Yes, having a website is one of the ways you can do affiliate marketing, but it is not the only way.  If you are keen to learn more about how to do affiliated even when you don't have a website, keep reading. We shall discuss the top 5 easiest ways of doing affiliate marketing even if you don't have a website.
Let's dive in!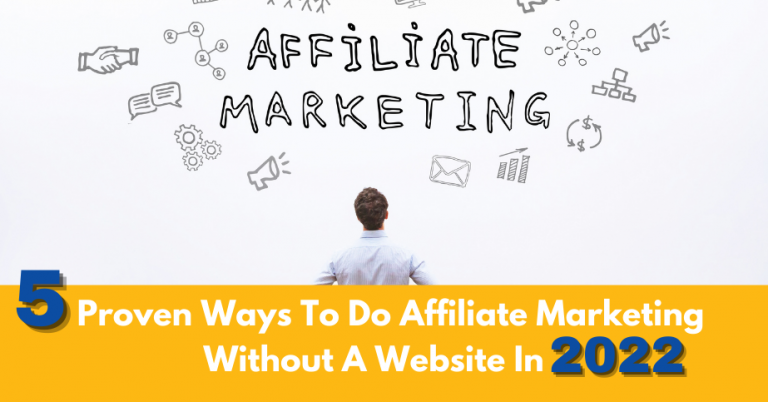 Media buying refers to the practice of paying for Ads on a given platform in order to get more visibility for your content (in this case, the affiliate links). You may pay for advertising and advertise your affiliate links on a variety of sites. Some of the popular ones include; YouTube, Google Search, Facebook, LinkedIn, and many more.
To get the best from this strategy, you need to do your calculations right and target the right audience. The first thing you need to ensure is that the total Ads budget is less than your expected income from the affiliate links. To increase your conversion rate, you must also make sure you are marketing to the correct demographic. When your Ads target the right people, they will likely get more clicks hence increasing your chances of conversion.
If you are reading this article, you are highly likely to own one or more social media accounts. Using social media is mostly for the purpose of staying in touch with close relatives and friends. However, you can also take advantage of the billions of people on these platforms to grow your affiliate marketing business by sharing your links.
For the best results, you need to create a Facebook page and brand it with an appealing name in line with the niche of the affiliate brands you intend to promote. You can always add the links within the content you share through this page. However, you need to do a balance between sharing engaging posts and sales-focused posts (the ones with links).
If you are using Facebook, you can also share these links in groups that fall under the niche of the product/service links you intend to share. For instance, if you want to promote links to a casino website, you can join groups that talk about gambling or sports. Besides Facebook, there are several other popular social platforms that are good for promoting affiliate links include; Tik Tok, Pinterest, Instagram, and Snapchat.
Content marketing refers to the sharing of content, including videos, blogs, or social media posts, without a direct selling message but with the intention of triggering interest for the brand. A variety of venues are available for sharing material associated with the businesses whose affiliate links are being promoted via your website.
Always create content that will likely trigger engagement in order to increase its reach and visibility. Some of the best platforms that you can use to publish written content include Medium, LinkedIn, Blogger, Tumblr, and HubPages. For video content, you should consider Instagram, YouTube, Pinterest, and Facebook.
To avoid being pushy, it is best to add links in sections where it is necessary to do so. You should also focus on creating content about the trending topics in your niche if you want to get massive traffic.
YouTube has over 2.3 billion users, so it is a reliable platform that you can use to promote affiliate links. Unlike most people's assumptions, starting a YouTube channel doesn't require having the best video cameras and accessories. Many YouTubers film their videos using their smartphones, as shown by the large number of channels using smartphones.
If you have a smartphone, you can record videos of yourself sharing ideas or news within your niche. The most important thing is to share content that people are interested in. Unlike social media platforms, the YouTube algorithm gives a significant number of impressions to new channels. So, if you have great content, you will soon start seeing your views go up.
You can always add the relevant affiliate links in the description. You should also share with your viewers to support your channel by using your links whenever they want to buy one of your products/services within your niche. One important thing to note; YouTube channels take some time to grow, so it will often take a couple of months to start seeing tangible results in terms of views and affiliate link conversions. 
Email marketing has been around since the dawn of the internet. You can also use this strategy to market your affiliate links as well. The best way to go about this is through creating brief and exciting content and sharing it with users in your email list. You can always intelligently add the affiliate links within or at the bottom of the content.
However much you would love to get results faster, it is best not to spam your prospects because this will be a turnoff. You should limit the number of emails you send to your subscribers each week to one or two.
Affiliate marketing is a very reliable means of generating income on the internet. As we have seen above, there are several ways you can use this strategy even if you don't have a website. Most of these strategies require being creative and coming up with content that your prospects are attracted to.
If you are into gambling, consider signing for BK8's affiliate marketing program. You can earn up to 45% in commission for every active user that joins the platform through your links. It's one of the simplest affiliate schemes for those new to the online casino industry. For more details, check out their affiliates program page.