Top 10 Affiliate Programs in Vietnam
Affiliate marketing has become one of the most reliable ways influencers and creators can get income on the internet. Vietnam is the 40th largest economy, which makes it ideal for eCommerce and affiliate marketing. Signing up for any affiliate marketing programmes accessible in Vietnam is a necessary step in the process of starting an affiliate marketing business.
There are quite a number of affiliate marketing programs in Vietnam that you can choose from. To make this choice easier for you, I will share the top 10 affiliate options that you can choose from. Let's dive in!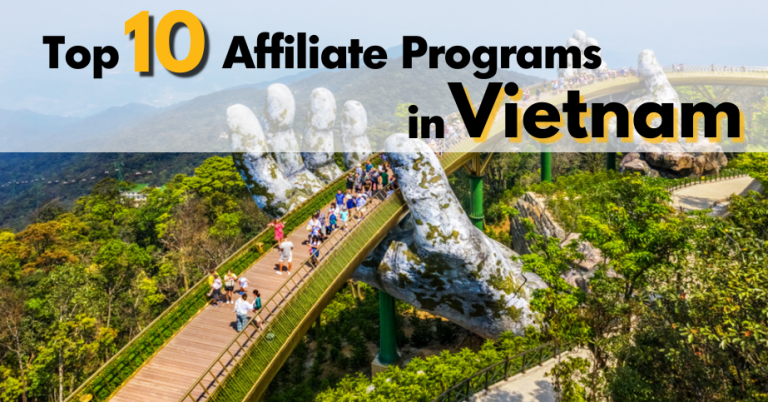 1. Shopee Vietnam Affiliate Program
Shopee is based in Singapore and was established in 2015. However, it is available in most Asian countries, including Vietnam, Thailand, and many more. Vietnamese users accounted for over half (52%) of all users that visited this site in the second quarter of 2020. This makes it one of the most reliable websites for any affiliate marketer targeting people in Vietnam. Their commissions range between 2.1% to 7% depending on the type of product.
2. Lazada Vietnam Affiliate Program
Eastern Asia's Lazada is a well-known online shopping destination. It also attracts a lot of Vietnamese visitors. People love shopping from this website because of the variety of products, including home appliances, consumer electronics, fashionable time wear pieces, and many more. Due to its massive success, this platform was acquired by Alibaba for $2 million. What makes Lazada one of the best platforms for affiliate marketing is its generous commissions of 14% depending on the product category.
3. Sendo Vietnam Affiliate Program
Sendo is the second-largest eCommerce website in Vietnam. With just nine years in the active eCommerce business, this platform's massive success is clearly due to the quality of products that people get from this platform. Some of the popular product categories on Sendo include women's fashion, men's fashion, mother and baby, homeware, food, cosmetics, tech accessories, sports, and entertainment.
Sendo gives its affiliates community a commission of $1 on every product sold, no matter the price. To accumulate more income, it is best to deal in relatively cheaper products with high sales volumes.
4. Innogialuron Affiliate Program for Vietnam
Innogialuron is a very popular product in Vietnam. So, if you are an influencer or creator in the beauty and fashion niche, you will surely need to join their affiliate program. The primary demographic for this product is females of all ages. The commissions you will get from this platform will vary based on the sites you link to promote the product.
5. Tiki Vietnam Affiliate Program
Tiki is an eCommerce platform in Vietnam that was founded in 2010. It is one of the fastest-rising websites that you need to consider bringing on board with your affiliate marketing campaigns. This website has over 300,000 products in 12 major product categories, including electronics, lifestyle, and books, and many more.
Books are the leading product category on the platform, so if you are in the books and self-development niche, this is the affiliate program you need to sign up for. The average commission you will earn on most of the products is about 7.92%.
6. AdayRoi Affiliate Program for Vietnam
AdayRoi is a top-rated eCommerce website in Vietnam and has been in business since 2015. This website is well-known in the country for being reliable for high-quality products available in a wide range of categories. It has over 200,000 sellers signed up to sell goods on this website. Some of the categories you will find on this website include; standard household goods, electronic devices, and one of the few e-commerce sites that sell cars and motorbikes. Their commissions range between 1.4%-7% depending on the product category.
7. Shop VN Express Affiliate Program
It is a popular online store in Asia with product categories such as electronics, merchandise, family products, furniture, and many more. This platform is part of the VN Express (online newspaper company). If you are an influencer or creator in topics that fall under any of these categories, this is one of the sites you need to consider. Their commissions range between 2-10%, which is relatively friendly compared to the competition.
8. Regeneration Vietnam Affiliate Program
Regeneration is a popular beauty product in Vietnam that many women buy to take care of their skins. So, if you are a creator of content in this niche, this is one of the products you should link to in your articles or descriptions on YouTube and podcast platforms.  The commission you will earn largely depends on the platform you will be linking your audience to. You can add links for platforms like Amazon and several other Vietnam-based eCommerce websites.
9. Money Cat Affiliate Program in Vietnam
Money Cat is a finance company that has recently opened a branch in Vietnam. It is a very popular multinational platform, making it ideal for affiliate marketing because a good number of people in your audience will likely trust it. Their commissions rate for the affiliate program is 5.6%, which is good enough compared to other brands in this niche.
10. Shadmart Affiliate Program
Shadmart is a popular eCommerce website in Vietnam that offers a wide range of products for consumers to choose from. They offer over 80 million products in several product categories, including clothes, electronics, and many more. The commission rate for most products is 10% for all categories, which is impressive compared to what the competition offers. 
Ten different affiliate marketing schemes are now available for your consideration. You can sign up for any of them depending on the kind of products you want to market. It is also okay to sign up on more than one affiliate program as long as their products fall into the niche of products you want to promote.
After decide which affiliate program you want to join, you can check out this "5 Proven Ways To Do Affiliate Marketing Without A Website In 2022" if you do not have a website to promote the affiliate link.