Top 10 Best Affiliate Programs In The US
Affiliate programs are getting more and more popular in the recent years. It's obvious why more people are getting on the bandwagon – good passive income, little to no investment needed, no experience required.
All you need is internet connection and you can start your journey with a reliable affiliate program. To have a steady stream of passive income through affiliate programs, you will have to create a website where you can promote or sell products and services. Or, if you already have a well-oiled website up and going, you can just spend some time searching for an affiliate program that appeals to you and your audience.
Some affiliate programs offer up to 45% commission, which means that if the product or service is $50, you can earn up to $22.5. The following is an overview of the 10 best affiliate programs in the US that can help you get started.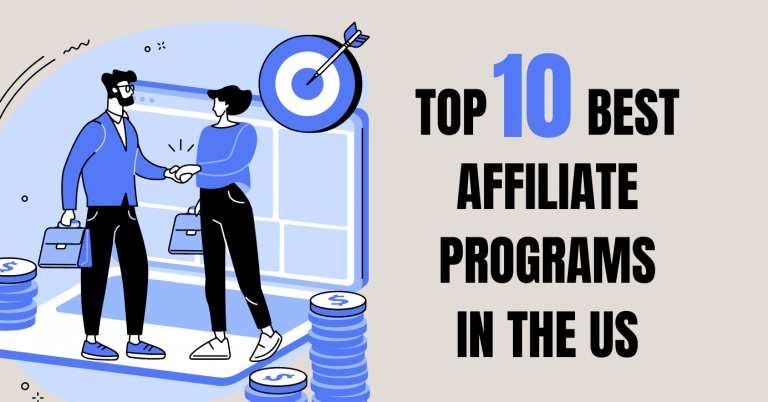 1. Shein Affiliate Program
10% – 20% commission per referred sale
Extra monthly Cash Bonus by sharing promotions
Monthly profitable activities
30-day cookie duration
Shein is an international fashion e-commerce company established in October 2008. The company offers women's, men's, and children's apparels as well as accessories, small household appliances, and electronics. Today, Shein covers over 220 countries selling fashion products at prices as low as $3 with free shipping.
If you're into fashion, then this affiliate program is made for you. Simply create eye-catching content with the materials provided by Shein and start posting on your website. You'll be getting your pay checks before you know it.
2. AliExpress Affiliate Program
4% – 10% commission rate
Commission rates vary by product, with some rates as high as 50%
Top affiliates earning up to $20,000 per month
Aliexpress, one of the biggest online retailers owned by Alibaba Group. Launched in 2010, it is famous for facilitating small businesses to sell products to international customers. Started off as a B2B portal, it has since evolved and expanded to accommodate B2C and C2C services. Aliexpress carries all kinds of products, from electronic gadgets, house appliances and furniture, to toys, clothing, and jewellery.
The AliExpress Affiliate Program offers high commission and timely payouts – something most people look for when deciding on an affiliate program.
3. Canva Affiliate Program
23% commission rate – up to $36 for each new Canva Pro subscriber
Priority support via email and live chat
Cookie-based affiliate tracking software
Regular payments
Launched in 2013, Canva is a design and publishing tool. Users can design anything for any medium. Graphics for social media and videos, flyers and posters for marketing purposes, presentations and letterheads for office use, custom t-shirt and mug prints, as well as invitation and greeting cards.
If your niche is in design and you have a website where you are always sharing and talking about all things design, feel free to give Canva Affliate Program a try. It's free to join and easy to make money from.
4. Adobe Affiliate Program
33% commission rate
Access to ready-to-publish marketing materials
Regular and exclusive promotions with incentives
Daily reports to help enhance your marketing efforts
Adobe is a company that offers various software for content creation. Its products are highly sophisticated and flexible, where most users will require a certain skillset to fully utilize the features. Adobo has different products for different purposes, such as Photoshop, Illustrator, InDesign and many more.
The main purpose of the Adobe Affiliate Program is to get more people to be aware of Adobe's promotions and new products. So, to be a successful Adobe affiliate, you'll need to reach an audience that has related skills, interested in content creation, and can afford to maintain a subscription.
5. Marriot Affiliate Program
7% – 10% commission rate
2 ways to earn – Hotel stays or vacation packages
7-day action referral period
Product catalogues with deep links to any city or hotel
With over 7000+ hotels in 131 countries, you can say that the Marriott brand has made its presence obvious in every nook and cranny of the globe. It has over 90 years of experience in hospitality and 30 participating brands, which include The Ritz-Carlton, St Regis, W Hotels and Sheraton.
Although the Marriott brand is already well-established and there's really no need for an affiliate program to further promote it, but well, there's one. As a Marriott affiliate, you can earn commission two ways – one is when someone books and completes their stay through your affiliate link, the other is on referred sales of vacation packages.
Up to 3% commission rate
Access to deep links, text links, widgets, and banners
Dedicated account team
Weekly newsletter
Hotwire is an online travel site that offers fight tickets, hotel bookings, car rentals and vacation packages at bargain prices. It is one of the first travel websites that gives people the freedom to make a last-minute booking at an affordable price. Travellers can easily find what they need, be it a hotel in a foreign neighbourhood or a car rental.
Just like any affiliate program, Hotwire's affiliate program works the same way. All you need to do is refer customers to book through Hotwire using your affiliate link and you'll get paid out for it. Upon joining the program, you'll get access to text links and banner ads embedded with your affiliate ID. There's also an affiliate support team to make sure that you have all the tools to succeed.
Up to 9% commission rate
Special commissions – Incentive commission, super cashback affiliates
Zero cost; no up-front payment
Lightinthebox is a global online retail store that offers a wide range of products. The site supports multiple languages and currencies, catering to consumers all around the world. Founded in 2007, Lightinthebox has been providing customers a convenient way to shop for lifestyle products including apparel, gadgets, home and garden appliances, and lightings.
Refer customers to purchase from Lightinthebox.com and you'll be paid handsomely.
8. Nike Affiliate Program
Earn up to 11% commission on valid sales
30-day cookie period
Automated product feed
Special gifts for affiliate-run promotions
Nike. Everyone you know must have heard of this brand. As one of the most popular sportswear brands in the world, Nike has been offering customers innovative designs with superb quality since 1964. It is constantly keeping up with the demands and has a few breakthroughs throughout the years.
Nike's affiliate program is really one of the best there is. However, not all affiliate applications are accepted. To be a Nike affiliate, you must have a strong presence within the industry, or anything related to it that can somehow benefit the brand. This affiliate program is for those who can influence others. If you're it, go ahead and apply and start making money with Nike.
30% commission from every professional plan sold
Professional support, tutorials, and a dedicated affiliate manager
Dashboard to launch, manage and monitor campaigns
Access to creative assets
Fiverr is one of the largest online marketplaces for freelance services. It provides freelancers a platform to offer services to customers worldwide. Founded in 2010, Fiverr was built with the concept of a marketplace where digital services can be bought and sold online, typically by freelancers in the fields of graphic design, writing, video editing and programming.
The main reason why Fiverr's affiliate program is so popular among affiliate marketers is because it has a high commission rate with no referral limit. There's also a sub-affiliate program where affiliates can invite people to become an affiliate as your downline. This is a very attractive program, especially for experienced affiliates simply because on top of the commission you'll get by referring new users to the platform, you'll also profit from your sub-affiliates' referrals.
50% per sale
Dedicated affiliate team
Affiliate kit
Elementor is a website builder platform for seasoned WordPress users. The platform is constructed for web experts like developers, marketers, and designers. Starting in 2016, Elementor is now serving users in more than 180 countries and has over 9,000,000 active installs.
The generous 50% commission is what draws in most of the affiliates. Additionally, those who are already a professional in web building will know exactly what kind of products they need from Elementor, making your job as an affiliate much easier because you won't have to push much for them to make a purchase.
There you go, the 10 best affiliate programs in the US. Nonetheless, these are just 10 out of millions of others. Here's an extra for you to consider – BK8 Affiliate Program. BK8 is a leading online entertainment platform that offers the best online games to users worldwide. It's one of the only platforms that has endorsements and partnerships from various renown individuals and entities, such as John Terry, Robin Van Persie, LaLiga, and Kelly Smith. Known to pay out affiliates on time every month, the BK8 Affiliate Program offers 45% commission to affiliates who manage to refer customers to register an account and make a deposit on the website. There's also a sub-affiliate program that gives you even more for promoting the brands.
Either way, affiliate program is a good option for those looking for passive income. So, before you dive headfirst, spend some time doing your research and maybe make some inquiries about the affiliate program you're interested in to find out if it's suitable for you and your audience.
Still unsure? You can start by joining BK8 Affiliate Program. Professional account managers will guide you and help you succeed.
Join now and start earning!
You may also check this – 7 Reasons Why YouTube is an Essential Part of Affiliate Marketing