Top 10 Best Cryptocurrency Wallets in 2022
As cryptocurrency community continues to grow, the safeness and security of storing cryptocurrency has become one of the main concerns among the cryptocurrency enthusiasts as no one want to risk their precious crypto coins on anonymous cryptocurrency wallet.
This is why today we are going to dive deep into the topic of 10 Best Cryptocurrency Wallets in 2022, so that you will be able to pick the right cryptocurrency wallet by yourself!
Before we listed out the 10 Best Cryptocurrency Wallets in 2022, we want you to know that cryptocurrency wallet come in two different types: software wallets (hot wallets for cryptocurrency) and hardware wallets (cold wallets for cryptocurrency).
Software wallets come with multiple features, such as free, easy to use, and can connect to the cloud infrastructure. However, software wallets can only store very small amount of cryptocurrency, and due to its connectivity to internet, it is easier to get hacked than hardware wallets.
In contrast to software wallets, the function of hardware wallets may look a little bland as it is specially built hardware device that allows you to store huge number of cryptocurrencies safely, but hey, it offers the highest level of security to its users.
Now that you have a clear idea on what is cryptocurrency wallets and the two different types of cryptocurrency wallets, it's time to dive deeper into our topic — 10 Best Cryptocurrency Wallets in 2022, let's go!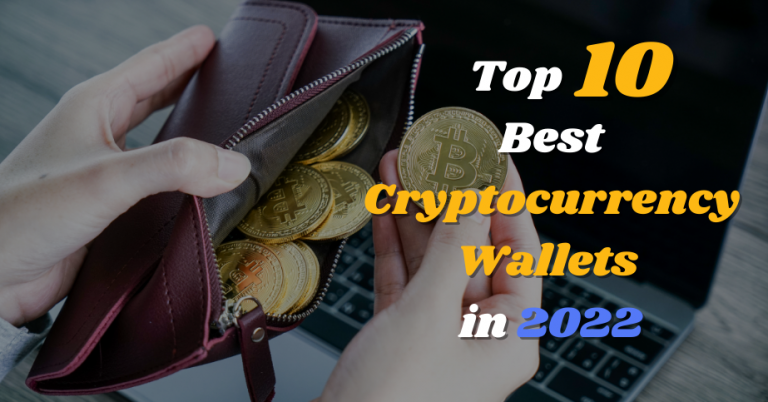 Crypto.com is a software wallet that is very popular among cryptocurrency enthusiasts, especially beginners. As Crypto.com comes with all the necessary features for convenient storing and online payment system that very user-friendly.
In addition to their user-friendly interface and system, Crypto.com also supports DeFi (decentralized finance) service that giving you the advantage to earn extra interest by simply storing cryptocurrencies in their wallet.
Key features if Crypto.com Wallet:
User-friendly interface
Supports DeFi service
Up to 8% cashback with VISA
24/7 Customer Support
Coinbase, one of the biggest cryptocurrency exchanges in the world, has introduced their very own software wallet for their users to offer their users to store, or custody their crypto coins on the wallet. It is also come with a Dapp browser which enables their users to explore the decentralized crypto web.
Key features of Coinbase Wallet:
Backup private keys to cloud
Able access coinbase.com account via Coinbase wallet
Support multi-cryptocurrency
Dapp browser
Asset price listed in local currency
If you're very concerned about the safeness and security of your cryptocurrency and hoping your crypto coins to be as safe as possible, Coinomi Wallet is your perfect choice to keep your precious crypto coins safe and sound.
Founded in 2014 and appears as the oldest multi-chain wallet in the industry, Coinomi wallet hold the record for 0 wallet has been hacked. Moreover, thousands of trading choice are made available on Coinomi wallet, and you can exchange whatever is available on the market with your cryptocurrency.
Key features of Coinomi Wallet:
Multi-chain wallet
Wallet are protected by strong encryption
Users' requests are encrypted and anonymized.
Dapp browser support
Allowing swap and exchange cryptocurrency
Wallet interoperability
Cryptocurrency can be converted to gift cards
It is not the first cryptocurrency wallet, nor will it be the last, but with over 72 million wallets created, it is definitely one of the best wallets for cryptocurrency out there.
Blockchain.com wallet offers two options to its users: a non-custodial version and a custodial version. Non-custodial wallet user will have sole control of their own private keys. With that, non-custodial wallet user will have full control over their funds.
While custodial wallet user's private keys are held by a third party. Meaning, the third party will have full control over their funds. What the user can do is give permission to send or receive payment. Despite not having full control over their wallet, custodial wallet user is given the luxury to enjoy extra features that non-custodial wallet user never has.
Key features of Blockchain.com Wallet:
Users are given the option to choose custodial or non-custodial wallet
Able to swap, buy, transfer, and sell cryptocurrency
Support up to 25 languages
Support up to 22 cryptocurrencies
Exodus is widely considered the go-to cryptocurrency wallet for all beginners as it offers an extremely simple and easy to use software wallet apps that can run on both PC and smartphone. In addition to the flexibility that offers by Exodus wallet, it also comes with a built-in exchange to allow its users to assess costs with a single click.
Exodus wallet also done a great job in securing the user's property as their private keys and transaction data are encrypted on the user's device. Meaning, only the user can access their funds.
Key features of Exodus Wallet:
Support up to 130 cryptocurrencies assets
Able to exchange cryptocurrency
Able to send and receive cryptocurrency
Desktop syncing
Real-time charts
To accomplish the tagline of "a Bitcoin wallet for everyone", Luno enables its users to buy cryptocurrency with small cash and save and earn interest from their savings. The low threats of new users do come in handy when Luno tried to grow its global presence in the industry.
To-date, there are more than 40 countries accept Luna as legit cryptocurrency wallet service provider.
Key features of Luno:
Users can save and earn interest from their savings
Able to buy and trade cryptocurrency from the app
Metamask is an ERC-20 supported (Ethereum-based token) cryptocurrency wallet that doesn't require its users to register to own an account, but rather install it as an extension to your PC or smartphone's web browser.
You don't have to submit your personal details to register at Metamask. All you have to do is submit a password, then a random generator will help creates everything from a-to-z for you.
Even though register at Metamask is rather easy, but it is in fact not a secure means of storing cryptocurrency, as user's private keys are stored on the exchange's server. Therefore, it is possible to fall victim to hack or other breaches.
Key features of Metamask Wallet
Easy to connect to and use decentralized application online
Convenience for daily usage
ERC-20 supported
Released in 2011, the Electrum wallet is an easy to use, Bitcoin-only software wallet. Although Electrum wallet is a less secure wallet than a hardware wallet, but it offers users a very user-friendly solution for sending and receiving Bitcoin payments regularly.
Not to mention that Electrum has done everything they could to prevent their users fall victim to hack by implementing several security defences, such as password protection, private keys and user information will never be shared or stored with the exchange server, etc.
Key features of Electrum Wallet
Perfect for Bitcoin haver who use the crypto coins on a daily basis
Password protection
Information is updated immediately
Private keys and user information will never be shared or stored with the exchange server
9. Binance Chain Extension Wallet
Binance chain extension wallet is a cryptocurrency wallet for Binance Smart Chain, Binance Chain, and Ethereum. By using Binance chain wallet, you will be able to transfer funds across above-mentioned wallets.
Apart from that, users can also use either one of the wallets to authenticate and sign transaction for another wallet, and this can be done without exposing your private keys. However, this also means that your private keys will be shared with the exchange server.
Key features of Binance Chain Extension Wallet
24/7 access to a cryptocurrency exchange
Able to trade your crypto coins at any moment
Two-factor authentication
Users who fall victim to hack or other breaches will be compensated
Trust wallet is another official cryptocurrency wallet of Binance, and it is by far the most popular cryptocurrency wallet out there with over 5 million users. Trust wallet has everything you need to store your crypto coins, such as Dapps browser, custom wallet, zero transfer fees and many more.
Here's to clarify that even though Trust wallet doesn't charge user for the use of send or receive crypto into their wallet, but network fees and token fees still apply on user. But bear in mind that these charges are not charged by Trust wallet, but the network used or token.
Key features of Trust Wallet
Support multi-cryptocurrencies
Support up to 40 blockchains
Support over 160k assets
Dapp browser
Crypto price tracking system
Every cryptocurrency wallet comes with their own pros and cons. So, it is important to study and choose the cryptocurrency wallet that suits you best. Now that you understand what's good and what's bad of above-mentioned wallet, it's time for you to explore the highest payout affiliate program – BK8 affiliate program!
Check out our next article 10 Best Bitcoin Affiliate Programs in 2022 to know a thing or two about how to earn Bitcoin for free!