4 Common Cryptocurrency Scams and How to Avoid
Cryptocurrencies and blockchain have been some of the most talked-about technologies in the last decade. So many people have been fascinated by crypto because of the many advantages it has over the mainstream centralized financial systems that we have had for centuries. Due to the popularity that these currencies have got in the last ten years, bad actors on the internet also want to benefit from this new trend.
So, if you want to buy or save your money as crypto, you need to be aware of the many scams on the internet that could run away with your hard-earned cash. In this article, I will discuss the four most common cryptocurrency scams and how to avoid them. Let's dive in!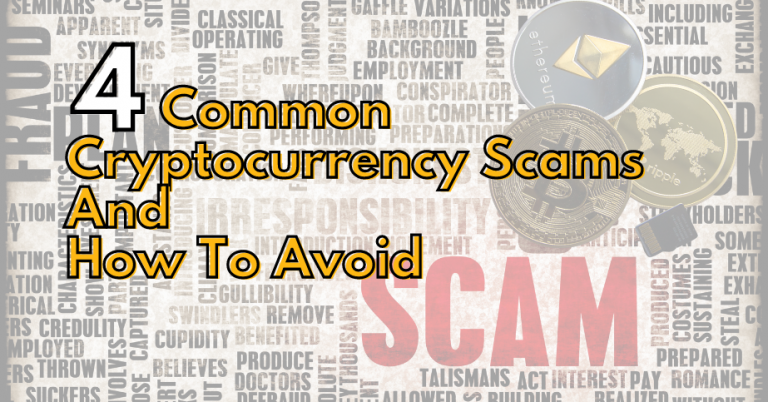 One of the easiest to buy and sell crypto is by using a crypto exchange platform. These platforms usually have mobile applications that make it more convenient since most people rely on their phones to do almost everything. However, scammers also have mobile apps that they claim to be crypto exchange platforms.
According to a recent study by Bitcoin News, over 10,000 people have downloaded fake cryptocurrency applications. Apps from Google Play and the Apple Store accounted for the majority of them. Even though Apple and Google are doing whatever it takes to take down such applications, sometimes their actions are implemented a little too late.
Android users are more vulnerable to these scams because Android natively allows sideloading of applications through apk files. So, most of these scammers distribute their APKs using different platforms to ensure they are installed by as many people as possible.
Some of these scams use tricks like creating apps with a slightly different name from popular exchange platforms like Binance and Coinbase. For instance, one can use a name like Binanse (which looks just like Binance) to take advantage of people who don't do due diligence before downloading apps to their phones.  So, before downloading any crypto exchange platform app, look closely to ensure you are downloading the right one.
Just like fake mobile apps, there are several websites on the web that have been set up to resemble legitimate crypto exchanges. Such websites usually copy everything from the original website, including the colour themes, icons, texts, and many more. If you are not keen, it is very easy to be a victim of such websites because they will do whatever it takes to make you are dealing with the legitimate site.
These websites also use names that almost resemble those of legitimate brands. They will usually change a few letters in the legitimate name to make it hard to notice. For example, they can swap the letter "O" in the domain name of a legitimate website with a zero (0). This little modification in the URL may go unnoticed by most visitors.
To avoid being a victim of these imposter websites, you should always consider manually typing the URL of the crypto website you want to visit into your browser's search bar instead of clicking links. Also, avoid clicking links from sources you don't trust. There are several secondary websites that are built to drive traffic to these imposter websites.
Most of the time, these secondary websites are blogs that share crypto-related content. They will then add links to their imposter website within the content. These blogs are built by sophisticated developers and digital marketers who know exactly what to do to make their content rank in search engines. We all trust Google, so if a link to one of these websites appears among Google's search engine results, people will naturally click it without thinking twice.
Over 4 billion people around the world use emails. This makes email a fertile ground for cryptocurrency scammers because a significant percentage of these email users are naive. These scammers will send emails with the same content as the legitimate crypto exchange platforms that you are already familiar with.
These emails usually contain links to the scammer's website that give you the different options of depositing money using your credit card to buy crypto. So, these scammers use emails marketing as one of the strategies for generating traffic to their website. Be cautious to check the domain name before clicking any links in an email.
You should also avoid sharing your email with websites you don't trust. If you are using an Apple device, take advantage of the iCloud Plus Service that enables users to hide emails from websites they don't trust.
Another platform that these scammers use is social media. They have mastered the art of social media marketing, so they know the kind of posts that will trigger people to click their links. Some of them even use popular figures on Twitter and Facebook to share these links with their followers.
Like emails, these links will also lead you to the scammer's website or app that usually mimics the layout of the legitimate crypto platforms. As a result, use caution when selecting the people, you follow on social media. Also, avoid clicking links to websites you don't trust.
With so many crypto scammers on the internet today, you need to be vigilant regarding the websites and apps you trust with credit card information. I also recommend using crypto exchange platforms that have been around for a couple of years.
Binance and Coinbase are two platforms I would recommend if you wanted to buy crypto. If you want to use a relatively new platform, do some background check about it to find out what the previous users have to say about it. 
While you searching the best platform to buy your cryptocurrency, you may also check out the affiliate program from each platform. Let check it out the 10 Best Bitcoin Affiliate Programs in 2022.