9 Major Companies That Accept Cryptocurrency As Payment
Cryptocurrency's increasing popularity had made it impossible for anyone living in this modern world to ignore its significance. Especially after Tesla founder, Elon Musk invested billions in Bitcoin, which caused the coin to reach a new record high of $60,000.
More and more companies across multiple industries are starting to realize the importance of having cryptocurrency as a payment method and are beginning to accept not only Bitcoin but many other cryptocurrencies.
So, if you have some crypto coins lying around and is wondering how you can spend it, continue reading to find out what companies accept cryptocurrencies as payment. The following are 9 major companies that accept cryptocurrency: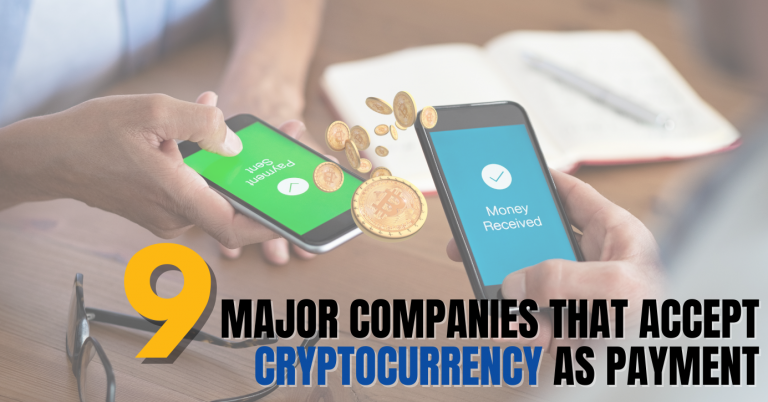 1. Pavilion Hotels & Resorts
The Hong-Kong based Pavilions Hotels & Resorts group is the latest and first global boutique hotel group to accept 40 types of cryptocurrencies. This includes Bitcoin payment starting July 2021 after securing a partnership with Coindirect, one of the leading global crypto-payment gateways in the world.
Before Bitcoin and other cryptocurrency made headlines in 2020s, Microsoft, one of the most well-known software companies in the world, has already adopted Bitcoin payment since 2014, enabling their users to purchase games, apps, digital products and more.
Another important note is that Microsoft has also invested in crypto technology rather than only accepting cryptocurrency tokens, such as launched ION, a two-layered authentication platform that helps create digital IDs to authenticate online identities on the Bitcoin network in March 2021.
Here's one word that could perfectly describe the biggest electric carmaker, Tesla's relationship with Bitcoin — complicated, as the founder of Tesla, Elon Musk goes back and forth when comes to accepting Bitcoin payment. Initially, Elon Musk made a promise that Tesla will accept Bitcoin payments for vehicle purchases in the US and will slowly open for other regions. To show their confidence toward Bitcoin, Elon Musk personally invested $1.5 billion in Bitcoin in February.
However, weeks after that, Elon Musk decides to put Bitcoin transactions on hold indefinitely as he mentioned that Bitcoin is not eco-friendly, and he will consider adopting Bitcoin payment once again if Bitcoin become more environmentally friendly.
Many years before Bitcoin and other cryptocurrencies established enough widespread trust to ramp up as wealth status, Visa has already entered into strategic alliances with many cryptocurrency exchanges, including Coinbase, Cirle, FTX and more.
To speed up Visa's adoption of cryptocurrency, Oliver Jenkyn, Visa's executive vice president and regional president for Noth America, said in June that the credit card company will now accept Circle-backed stablecoin USD Coin (USDC) as payment method. It is worth to note that the value of USD Coin is pegged to the value of the US dollar.
Rumor has it that tech giant Amazon.com Inc. would soon accept Bitcoin payment on its platform by the end of 2021, even though Amazon has denied the claims, but it will soon become a reality, as the tech giant has posted a job listing for "digital currency and blockchain product lead" on its "payment acceptance" team.
Another thing is that even though Amazon doesn't directly accept Bitcoin at the moment, but they have been partnering up with Bitrefill, a crypto-only company that helps normalizing the usage of cryptocurrency. You can visit Bitrefil to buy Amazon voucher with your Bitcoin.
In 2019, the major US telecom company, AT & T teamed up with crypto payment platform, BitPay to accept Bitcoin payment for phone bills. This marks another milestone for AT & T as they become the first US-based business in the wireless network industry to accept Bitcoin payment.
World's best Virtual Private Network (VPN) provider, ExpressVPN has 7 years of experience in accepting Bitcoin payment via Bitpay. To-date, users can now sign up for new account, or subscribe their services through using Bitcoin, Ethereum, XRP, as well as other cryptocurrency tokens that pegged with value to the US dollar.
In an unprecedented move, Sotheby's, international fine art auction house, announced that they will accept virtual currency, including Bitcoin and Ethereum as payment for physical artwork. This unprecedented development was facilitated by one of the largest cryptocurrency exchanges in the world, Coinbase.
In July of this year, Sotheby's has set a new record for the most valuable item to ever bought with crypto coin at an auction, as they had sold a rare 101 carrat diamond for $12.3 million in Bitcoin.
Latvian airline, airBaltic became the very first among other aviation companies in the globe to adopt Bitcoin payment for its flight tickets back in 2014. To-date, the Latvian carrier also accept other cryptocurrencies as a means of payment for travel, flight, and vacation packages via their cooperation with BitPay.
Other eastern European airline, private jet, and yachting companies such as PrivateFly, The Yacht Break, LOT Polish Airlines and many more started to embrace cryptocurrency the following year.
Now that you know who accepts Bitcoin as payment, and if you wish to get some free crypto coins or earn crypto coins by yourself, feel free to check out our next article on the topic of 9 Methods to Safely Earn Cryptocurrency.
In this article, we will be discussing 9 methods that can help you get your hands on free crypto, which is highly recommended by crypto experts. For example, joining an affiliate program and obtaining crypto bonuses offered by trustworthy platforms such as BK8. Check it out now!