Making Use of 9 Free Google Tools for Your Website and Business
Businesses depend on digital marketing tools to survive. Thankfully there are tons of marketing tools like Google available out there that can help you gather insights, optimize marketing efforts, and boost your business revenue. As we all know, Google is the most powerful and effective search engine worldwide. We just can't imagine our life without Google. It provides you the answers to almost everything under the sun with a single click.
However, Google is a lot more than just a search engine. In this article, we will highlight 9 free Google tools that you can leverage on your business and website. The best part of using Google tools is that you can see how Google sees your website or app and get insights directly from Google where you want to rank and drive traffic from.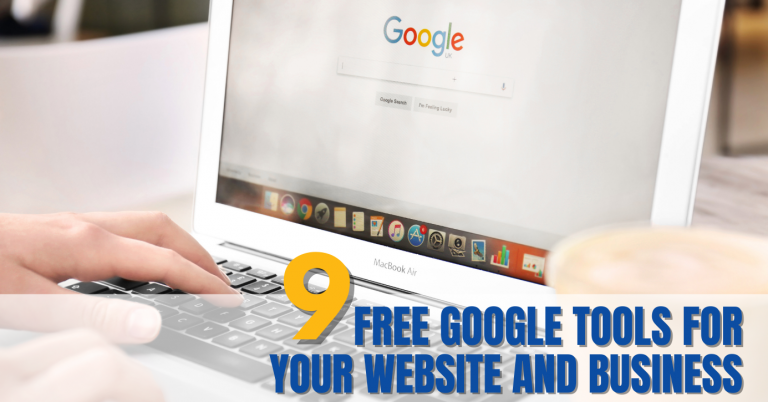 Whether your site is run in the form of a personal blog, business or corporate page, ecommerce, Google Analytics is considered an essential tool.  Google Analytics is a web analytics service offered by Google that tracks and reports website traffic. It is completely free and can be integrated with other tools.
You can design custom reports by creating KPI and conversion tracking to get the most of your analytics information and use it to improve your website's content, user experience and optimization for better online sales.
Are you operating a brick-and-mortar business? If yes, this free tools from Google are one of the most local SEO strategies to build up your website. Google My Business is an impressive tool for businesses and organizations to manage their online presence across Google, like Google Search and Google Maps.
As smartphone penetration in Malaysia approaching 100% by 2018, most Malaysians are using smartphones for navigation, searching for instant answers, or browsing social media platforms. Your business and brand need to be found online with the correct information.
Google AdWords is a free tool for marketers with the help of which you run paid search campaigns, it is approachable to businesses of all shapes and sizes, but its accessibility and ease of use is both a blessing and a curse.
At its most basic level, launching a Google AdWords campaign is an effective way to drive traffic from the search engine through to your website. It can also play a vital role in increasing the reach of your marketing campaign, especially if it's a short-term marketing campaign as opposed to a long-term one, where SEO and other digital marketing technologies can also play a part.
Google Trends is a helpful appliance that allows you to see the search volumes of keywords so you can make smarter, related keyword choices and for several different marketing purpose. It also helps you discover the latest news, insights, stories, searches for SEO, content marketing and to inspire your ad to be creative and accurate.
This tool helps marketers, webmasters, SEO professionals understand how Google sees your web pages. It can provide you detailed crawl reports and indexing information about your pages directly from the Google index.
Unlike Google Analytics, which presents flexible and customizable data in an easily managed form but is largely objective. Google Search Console offers more proposition, highlighting problem areas and opportunities for enhancement. This can be a benefit for those targeting SEO development as the relationship between ranking and optimization is made a little clearer.
So, you wonder which is better, Google Analytics or Google Search Console? There isn't necessarily one winner and one loser. Each of these valuable Google tools has advantages and disadvantages, and each serves a different purpose.
Google Drive is a cloud-based storage option that gives you the ability to keep your photos, emails, and other files on their server. But getting 15GB of storage included with your free account is just the beginning, it also comes with a suite of office tools rivalling the heavyweights from Microsoft Office.
You can also give different access levels to different users, for example, if your team is creating a content upgrade using Google Docs, anyone internally can have editing access. While your audience may see just a "view only" version of the same document.
Most importantly, Google Drive is accessible anywhere you have an internet connection, if you can sign into Google, then you may access all documents and files.
Google Alerts is a free service for keeping an eye on your media features, your business's online reputation, and what your competition is up to. If you set up a few Google Alerts for your business name and relevant keywords, the system will alert you whenever those terms are mentioned online. 
You choose what you want to hear about then Google sends you an email when it appears in a new page on the web. This allows you to receive results in real time, not just monitoring mentions of your brand, but also keeping an eye on competitor's activity.
Google AdSense is an advertising program that allows you to run ads on your website, blog, or YouTube videos and get paid when visitors click on them. It's free to join and eligibility requirements are easy. There are plenty of ad options and some you can customize to fit the look and feel of your site.
AdSense lets its advertisers vie for space on your website based on your content, as well as how likely they are to get clicks on their ads from visitors. Google determines the latter through the advertiser's "quality score." Two factors are at play here, first is the click-through rate (CTR) which is the percentage of visitors to your site that Google thinks will click on ads. Another is a group of what Google calls "factors affecting the quality of user experience from viewing the ad." Google doesn't disclose what these are, but according to its help site, the relevancy of the ad and landing page experience are key.
Back-to-back-to-back-to-back meetings take a serious toll on your productivity and overall health. This is a powerful and free service you can use to organize all your data in one place and keep your priorities in check. It has many useful features, including the ability to share calendars with others and easily switch what is currently being displayed. You can access your calendar from any computer or mobile device if you are signed into your Google account.
You can set email reminders to get timely notifications, so you can easily keep track of your meetings, reservations, flights and important events like Granada CF upcoming matches, BK8 Crypto lucky draw and much more.
Well, not everyone needs every Google tool on this list, but even the most basic products — when used the right way — can help you search for information, interact with people, organize your tasks and data, accelerate your businesses growth and get ahead of the competition.
Every business today is going online and making money online has become one of the most reliable ways to create financial freedom in the digital era. BK8 is a licensed, world-class online entertainment platform that offers live casino games, sports betting, online poker and more. Now BK8 welcomes bloggers, YouTubers, Vloggers, and other creatives who want to use our affiliate marketing program to earn extra income. Source creative ways to share a link to our website, and we shall pay you a commission when someone places a bet with us through your link. Click the image below to find out more details about this program.