10 Reasons You Need A Digital Marketing Strategy In 2022
By now, the importance of achieving marketing objectives for brands using digital media and technologies cannot be overemphasized. This is especially true considering the massive impacts that COVID-19 has had on the growth of online marketing. Consumer behaviors and expectations have shifted dramatically as a result of earlier lockdowns and social exclusion. In the United States alone, over 62% of end-users spend more time shopping online than before, according to Bazaarvoice.
This is an indication that every brand needs to be digitally smart to meet the growing demands of clients. Otherwise, a brand may render itself obsolete before long. Fortunately, digital marketing is a tool that can be utilized by every brand, regardless of the growth level.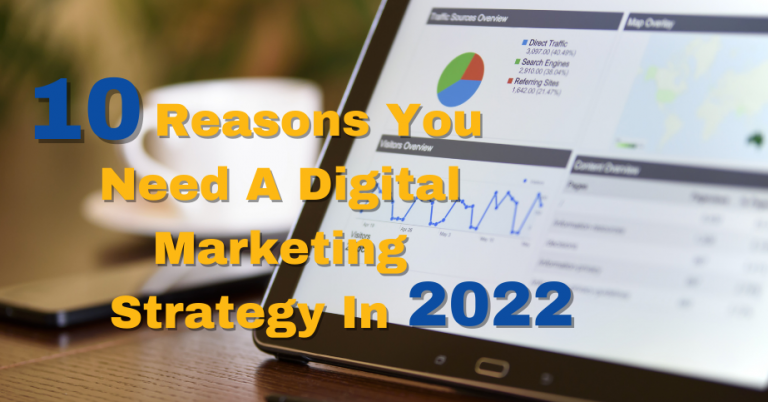 More excitingly, company website, social media campaigns, search engines, micro-influencers, email & automation, and mobile apps are just among the many digital marketing tools that can help take your brand into the "palm" of your prospective client. If you are still wondering why, you need a clear digital marketing strategy by 2022, find out the top ten reasons below:
Many companies are simply looking at their competitions benefiting from online marketing from afar. The reason is not due to lack of effort. However, it's solely due to a lack of a clear strategic plan for their online marketing effort.
A brand has to develop clear goals concerning gaining new clients or strengthening relationships with their current customers. Without clear digital marketing objectives and strategies, you are likely not analyzing your marketing efforts with analytics tools, which can render your online presence irrelevant.
2. The Online Audience And Market Share Are Unknown
For a brand that is yet to perform a deep analysis into customer demand for online services, they might continue to underestimate it. More importantly, such a company will not understand its marketplace, including its dynamics such a customer profile, behavior, competitors, and relevant marketing tools to use.
However, with clear digital marketing goals and strategies in place, you'll know the audience to target, the marketing tool to use, and when to use them.
3. Market Share Will Be Gained By Both Current And New Competitors
Whether your enterprise is a new or existing brand, you might be surprised how start-ups or existing competitions are gaining more presence and awareness online when you use an ad-hoc approach without clear plans.
On the contrary, getting marketing professionals and using the latest digital advertising strategy will understand the latest trends and innovations to beat your competition. You simply need to stay ahead; the competition is fierce.
4. You Do Not Possess A Strong Online Value Proposition
Every brand needs a custom-made proposition for various customer personas. This will help develop different useful approaches for your existing customer and new client online. When you personalize engagement with clients, they are to consider your market and look into your products. Otherwise, your brand is not missing out on the winning power of an online value proposition.
5. You Don't Have A Solid Understanding Of Your Online Audience
Without a clear digital marketing plan, there is a good chance that you don't know your online customers well enough – this won't bode well on your digital effort.
In this regard, your marketing team needs to use various analytics tools to understand the sentiments of your company's website guests. For instance, you can feedback form, review space, or complaint option to learn about their needs and tailor your marketing effort accordingly.
6. You're Not Integrated ("Disintegrated")
A brand lacking the understanding of digital marketing and its strategies is likely to over-rely on online marketing. This is a less effective approach.
On the contrary, you need quality service delivery, provision of response channels, traditional media, and online marketing tools to have generated significant ROI on your product or services. In other words, it's important to integrate digital marketing into your business as much as you invest in it. 
7. There Aren't Enough People Or Resources Allocated To Digital In Light Of Its Significance
A lack of a defined online marketing plan can lead your brand into providing insufficient resources for planning and execution.
Also, specialist online marketing skill is likely to be in short supply that can make reacting and responding to competitive threats difficult, if not impossible. For this reason, you need experts who can help access strategy and planning tools to drive your eCommerce in the short and long terms.
This would include performance and digital maturity benchmarking, regular data reports, and analytics reports. In this way, you will be able to monitor your position within the competitive digital space.
8. Duplication Costs You Additional Money And Time
For a brand putting sufficient resources into digital marketing, it's likely using the funds and properties in the wrong direction when there are no clear objectives. This is especially the case of many top brands hiring different marketing agencies to perform the same online marketing task repeatedly.
When you continue in such a path, you are likely to keep experiencing little ROI, despite the massive resources used for marketing. Such a situation can be avoided by sitting down with your team to plan, manage and optimize the available marketing tools and platforms. In this way, your brand has a better opportunity to meet its objectives. 
9. You're Not Adaptable Enough To Keep Up With Or Even Go Ahead Of The Competition
Today, many renowned brands such as Amazon, BK8, Dell, among others, are developing several strategies to stay ahead of the competition game, despite their huge reputation. Competing with top brands in your niche could be demanding without a clear marketing plan, goals, and objectives. 
10. You're Not Optimizing
If a brand has a website, it's definitely going to have an analytic component. However, the sad reality is that the management hardly asks their team to review and interpret the information from the report.
This is because there is no strong and defined digital marketing strategy in place to get the basics right. When simple analytics and reports, you are likely wasting your resources on email, social, and media marketing.
Aside from meeting customers' expectations by providing quality products and solutions, top brands such as BK8 continue to stay relevant because of their defined digital marketing strategies and goals.
From the list above, your brand is likely guilty of one or more reasons if you don't have a reputable presence online and not benefitting from the worldwide web. It's advisable to review your online marketing effort to find the loopholes and establish a stronger foundation.