Top 7 Website Builders in 2022
Having a strong presence in the digital world requires effort – To really be seen and heard, you'll need to leverage on a different form of online podiums, which includes social media pages, e-commerce platforms, blogs and, of course, a website.
New businesses often neglect the importance of having a solid website and go straight to using social media such as Facebook, Twitter, and Tumblr. There's no doubt that all businesses, no matter big or small needs to have a social media presence in this day and age, but having a website is crucial to your brand identity. All Facebook pages look the same, so the only way you can distinguish your brand from your competitors is by creating your own website. By doing that, you have complete control over how you want your website to look, what kind of content you want to include and more importantly, you get to really show customers and investors what your business is really about.
Building a website has gotten much easier these days with easy-to-use website builders that offers a variety of services. You can easily build a professional, user-friendly, and attractive website with minimal technical knowledge. Most of these website builders are free with basic features, however, you can choose to invest a small amount to have access to more features and services.
Below are 7 website builders with some of the best services.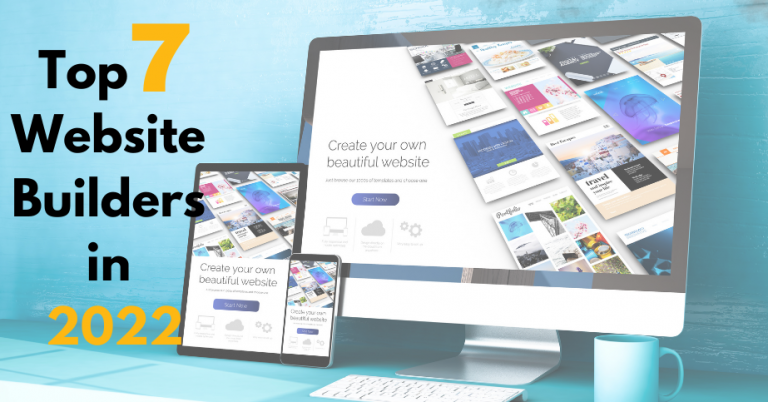 1. Wix – Beginner-friendly; Best all-round builder
Wix is the most beginner-friendly website builder that offers the best selection of free offerings. For small businesses and freelancers, Wix's free plan should be more than enough. There are over 500 template designs, which are all highly customizable – this capability alone puts Wix on top of the list. It's also one of the easiest to use, its drag-and-drop editing tools are a big hit among beginners and professionals alike. Some other features you can expect from its free plan includes personalized SEO tools to help increase your website's visibility on Google, social sharing to promote your site, and mobile editor to ensure mobile optimization.
If you're already a tech wizard, there are eight premium plans starting from $14 per month that unlocks additional features. Regardless of which package you choose, just make sure you choose your template carefully, as you won't be able to change it after your website goes live.
2. WordPress.com – Perfect for blogging
WordPress.com is very suitable for blogging. So, if you're trying to build a website for your clothing brand, WordPress.com might not be your best choice. However, if you enjoy writing and possess some basic coding knowledge, then you should give WordPress.com a go. There's one free plan and four premium plans with prices ranging from $4 to $45 per month. Its free plan includes over 300 themes and blogging tools such as RSS feed, social bookmarking, archives, comments, and a search feature.
The extensive number of features, highly customizable blogging tools and affordable prices make WordPress.com a great choice for bloggers with some technical expertise, definitely not suitable for novices. Unlike website builders such as Wix and Weebly, you can't just drag-and-drop, instead, to fully utilize its features and customize themes, you'll have to understand basic coding.
3. Squarespace – Ideal for creatives; Attractive template designs
Known for having some of the best template designs, Squarespace is a sophisticated website builder made for creatives and designers. If building a visually impressive website is top priority, then you must check out what Squarespace has to offer. It doesn't have a free plan, but there's a 14-day free trial. If you love what you tried, you can choose from four premium plans, starting from $12 per month.
Squarespace isn't just about pretty templates; it offers quite a bit of quality features as well. To name a few, you can install and work on multiple templates all at once, have a video background, add custom codes, upload and share music, and link your social media accounts. All features on Squarespace are developed in-house, which guarantees high quality and security. However, if you wish to integrate third-party extensions, you can do so by upgrading your plan. For a stunning website, Squarespace is undeniably the best in the market.
4. GoDaddy – Best for quick website building and publishing
GoDaddy is extremely user-friendly and is probably the fastest end-to-end website builder. To start, it provides users a design assistant, in which you just need to provide some simple data, and GoDaddy will tailor a website design for you to customize. You can easily add elements to your website by following simple instructions. GoDaddy doesn't have a free plan, but you can go on a one-month free trial before signing up – its paid packages range from $10 to $25 per month.
For a simple and speedy website building process, GoDaddy is your best bet. Basic websites that don't need many features or enhancements will work just fine with GoDaddy. However, it isn't for complex websites as it has its limitations when it comes to personalization and feature options.
5. Weebly – Ideal for small businesses
Packed with apps and features that will come in handy for small business – especially ecommerce and blogging, Weebly is one of the best builders that frequently picked up by small business owners. Apart from all the basic tools that could help you to build a great business site, you can also spite up the color and design of your business site by applying the simple, stylish, and mobile responsive themes that are available on Weebly.
After you are done with the overall layout and design of your business, you can even consider starting on boosting your business's SEO strategy with the helpful SEO guides that provided by Weebly, such as advice on coding, keyword optimization, and everything you need to skyrocket your site's SEO ranking. All of that will only takes you $6 up to 26 per month (billed annually), which is considered far affordable than website builders available on the market.
6. Strikingly – Best value for money among all website builders
Worried that the web you built doesn't worth the price? No problem, because Strikingly got you covered! Specialized in building one-page website, the beginner-friendly website builder offers a free plan that comes with some great basic features, which predictably turns out to be a banger amidst bloggers and freelancers.
It might not be the greatest website builder out there, but it is definitely worth every single penny, as their customer help centre is 24/7 available to keep you satisfied. You can get a one-month free trial to try out their service, and if you wish to continue your business with them or get a personalized domain name, you can always upgrade your plan to one of Strikingly's three premium plans, which range from $8 to $49 per month (billed annually).
7. SITE123 – One-stop solution for users with zero tech experience
Building a website can be a nightmare if you have no experience in technology-related industry, this is why amongst of all the other choices, most non-tech peeps choose SITE123. With 24/7 live chat support and straightforward design, SITE123 offers the easiest and fastest way to create a simple website, but it can quickly become a downfall as everything that offered by SITE123 is way too basic, you can't ask them to do more than that.
Another problem with SITE123 is that you can't change your website's templates once your site goes live, so be extremely careful when designing your website, because you won't to rebuild your website over a minor mistake! Even though SITE123 is not a great choice for advanced user, but hey, with a free plan and great support, SITE123 is indeed a perfect choice for first-time builders – its paid packages range from $12.80 to $34.80 per month.
Building a website has never been easier with the help from website builders. But before you start to buy the premium plan, make sure that you understand the features and apps that offered by the website builders, so that you will be able to choose the right website builder to get started!
Now that you understand a thing or two about the website builders, you might want to find a side gig to cover the cost of buying premium plan. If then, you should consider BK8 Affiliate Program, as it offers up to 45% of commission rate to its affiliate! Not to mentioned that BK8 is a rising entertainment platform that backed by many renown individuals as well as corporations, such as Robin Van Persie. Check them out now to figure out your future side gig!
Join BK8 Affiliate now!