7 Reasons Why Social Media Is Important
More than 4.48 billion people will be using social media by 2021, according to recent estimates. This rise can be attributed to the increased number of people who have access to the internet and the drastic increase in power and drop in prices of computers/smartphones. The social platforms with the most users include Facebook, YouTube, Instagram, LinkedIn, and Twitter.
Any business that wants to prosper in this era has to have a marketing plan that takes advantage of the billions of people who use these platforms every day. If you are among those that doubt the power of social media, this article is for you. We shall discuss the 7 major reasons why integrating social media in your marketing/branding strategy is important. Let's dive in!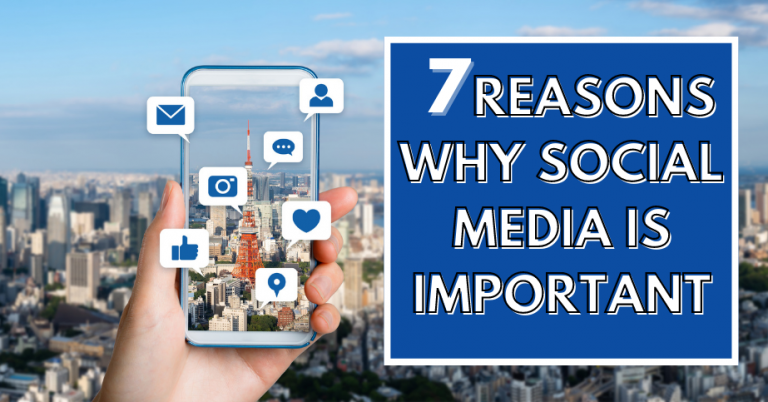 1. Get More Qualified Leads
Leads from your social media platforms are way more qualified than leads from any other sources. Someone who follows your brand on social media already knows a lot about it and will surely be easier to turn into a paying customer than people from other sources, including search engines.
To get the best from your social platforms, you need to give value to your followers by creating valuable content that teaches them something new whenever they check out your timeline. It's this kind of material that keeps your social media fans engaged and committed to your business. Turning loyal followers into paying customers is way easier than for strangers who know nothing about your brand.
Social media gives you the platform to build a brand that your target audience can easily relate to. This can be done by creating posts that are unique to your brand. You can always integrate your company logo and colours into the infographic content you share on your various social platforms.
While creating branded content, you need to remember that posts that work on Facebook may not necessarily work well on Twitter and other social platforms. This mainly applies to images and videos. The aspect ratio of media content on Facebook shouldn't be similar to that on Instagram, Twitter, or LinkedIn. All these platforms have their default aspect ratio that your photos will be converted to.
To avoid cropping out your photo or video, make sure you resize it to the aspect ratio recommended by that platform. For Instance, the recommended aspect ratio for Instagram is 1:1. On the other hand, Facebook recommends a 1.91:1 aspect ratio, whereas Twitter's is 16:9. While editing your branded infographics, you need to remember such details.
There are no other platforms that make it easy to build a community on the internet than social media websites. With these platforms, you can bring together thousands or even millions of people that have common interests. For Instance, if you are running a casino website, you can build bring together people from all over the world that love gambling.
To build a following, you must produce engaging material that your fans will want to share with others. This requires some creativity, especially if your brand is still new and you are trying to capture the attention of your target audience. To create engaging posts, you always have to follow the news and events in your industry.
Most of your posts should be generated from the trending news in your niche because your audience will most likely want to be updated about what is going on. Besides the mainstream social media, you need to think of building communities on more personalized social platforms like Clubhouse, Discord, Telegram, and WhatsApp.
4. Don't Let Your Competitors Beat You
With social media, you can see what your competitors are up and then build a strategy that will beat them in the market. While running your social accounts, you can always check out your competitor's timelines to see know what they are up, so that you build the right strategies to outcompete them.
You will also have the chance to get content ideas since you are able to see the content your competitor's followers engage with the most. You don't have to copy the text verbatim. All you need to do is get an idea of the type of posts that work for your audience. Businesses that haven't embraced social media will often find it challenging to know what their competitors are up to.
And remember, without sufficient knowledge of what your competitors are doing, it becomes harder to beat them in the market. If you have the budget, you should consider using some third-party tools that will help you get insights into how your competitors are performing in terms of impressions and engagement. Some of the third-party apps you can try out include HubSpot, Soho, Salesforce, and Hootsuite.
5. Use Advanced Targeting Options Easily
Social media websites have a lot of information about your potential customers, including their age, gender, interests, places they have gone to, and many more. These platforms can get all this information because people use social media to share their interests and daily activities with their family and friends.
Such information is very important while marketing your brand through paid Ads. For Instance, while creating Ads on Facebook or YouTube, you have the option of targeting people based on their gender, location, sports clubs they support, TV shows they watch, other related brands they follow, hobbies, interests, and several other specific parameters.
This level of detailed targeting is unmatched and increases your conversion ratio when compared to other marketing models. So, if you want to enhance your conversion ratio, social media Ads will help you achieve that faster than any other platform.
The detailed targeting of social media Ads is the primary reason why Facebook Ads are regarded as the most effective than any other platform on the internet. Facebook has way too much information about your target audience, which makes paying for their Ads worth the investment.
6. Expand Potential Customer Base Quickly
Social media makes it a lot easier for you to build a bigger and better-quality customer base. Creating content that resonates with your target audience is all that's required of you. Posts that attract engagement from your community can easily get viral to the extent of reaching people that don't even follow your brand.
So, if you want to expand your customer base beyond what you currently have, presence on the different social platforms is a must. You need to consider the fact that content that works on one platform may not necessarily work the others. For Instance, you may post a video clip on Instagram reels, and it goes viral, but the same clip may fail to get the same amount of engagement when posted on Twitter or LinkedIn.
The good news is creating these posts is free, so you have room to experiment. You should also consider checking the different social timelines of the top brands in your niche to see the kind of content they create on each and how it performs.
You can do direct selling on Facebook and any other social platform, including Instagram, Twitter, and LinkedIn. However, Facebook has more tools that make it much easier to sell on its platforms than the rest of its competitors. You can take advantage of its tools like Market Place, Buy & Sell groups to share your products with potential buyers.
Facebook also has a catalo section that allows you to share the products that your business offers to the market. With this section, you can showcase your products using some of your best images. Facebook also gives you room to fully explain your product, thanks to the description section that allows up to 5000 characters. The good news is that all these tools are free, and you can use them without any limitations.
Social media was one of the most revolutionary innovations that have taken advantage of the power of the internet. When used well, a business can grow exponentially because they have the potential to reach millions of people without having to pay a single penny (for organic content). But even if you choose to use paid Ads, the amount you pay is a small fraction of what you will part with if you use mainstream media platforms like TV and Radio.
If you want to scale up your business and increase its sales, profits, and customer base, start taking social media marketing seriously. Building a community and creating quality leads on social media is way too easy compared to other marking channels. With the right strategy, you can easily expand your business at a rate that is not achievable with any other platforms.