Businesses nowadays are always looking for innovative methods to remain on top of their game, keep in touch with their current clients, and attract new ones. With the growing use of social media networks, businesses must add these to their marketing efforts.
People may be reluctant to even attempt a social media platform for marketing because of the disparities between them.
According to recent data, there are 4.48 billion people in the world actively using social media. That is an increase of 13.13 percent year on year from 3.69 billion in 2020. Did you know that there were only 2.07 billion users back in 2015? That is an overall increase in users of 115.59 percent in only six years.
When we talk about social media, we're referring to the use of online-based technology as a medium that enables the exchange of information, views, and ideas via the creation of virtual communities and networks.
Among the types of content that people post on social networking sites are pictures, personal information, files, and videos. Users also access social media through their mobile phones, tablets, computers, or web applications.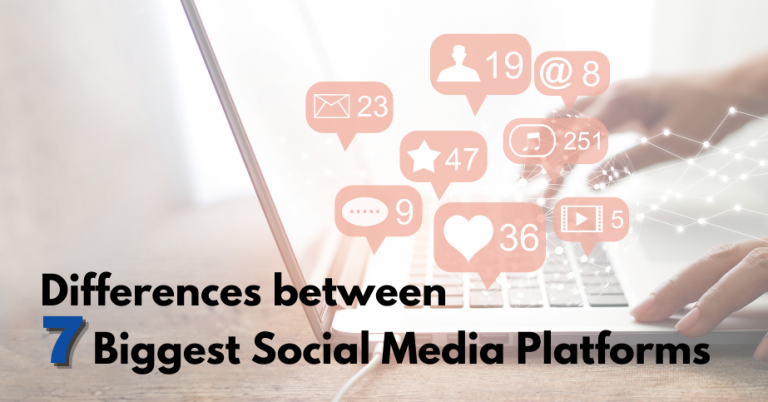 Whether you like Facebook or not, your consumers are most likely to be there in some form or shape. It's the largest social media network with 2.89 billion users as of writing. Not just people use it for personal use, but it's now becoming a marketing platform for businesses across all sectors and industries.
For business use, Facebook is a destination to share updates on offers, company news, or promotions along with scattered industry news. People will come to your page to learn more about your business as well as your company values and culture.
With Facebook being the largest social media platform, you should have an online presence on that platform. Most people seeking a product or service will use the platform to search through because it's a familiar place, allowing them to feel safe and take a peek with no pressure.
Just remember to keep your intended audience in mind while creating and sharing your content. Are the posts fitting with your company? Do they match your culture? Are there things your audience wishes to hear, or see?
You can utilize Facebook as a way to connect your customers to your business and give reasons why they must trust your brand and purchase from you.
YouTube boasts 2.29 billion users, but its reach extends far beyond that. You see, you don't need to sign up to become a user and view content on the platform. That's why YouTube has become one of the largest search engine platforms, second to Google. Most of these searches are "How to" videos.
Service industry businesses that offer this kind of content work well on this social media platform, together with educational and lifestyle videos. Many businesses have leveraged this social media network to reach their potential customers successfully.
Keep in mind that YouTube has a robust user base across all age groups, which include the hard-to-reach 65+ demographic. With more adults using the platform, it is second to Facebook. The platform also covers a wide array of genres from education, gaming, DIY home improvements, beauty, and cooking.
Brands should put their money where their mouth is, and YouTube is the place to do it.
Instagram is a visual platform. If you love photography, grabbing the moment or real-life images, then this is the social media platform for you. It's a platform where influencers, product-based businesses and coaches can flourish.
After introducing shoppable posts in 2018, the potential return on investment for product-based businesses is greater than ever—not just can B2Bs connect with a huge audience, but they can also connect the product sales and information directly from the platform.
Is your target demographic under thirty-five years old? Then Instagram is a huge gold mine. Seventy-five percent of 18 to 24 years old use this social media platform, along with fifty-seven percent Millennials and sixty-seven percent Gen Z's using the app regularly.
A powerhouse, Instagram has 1.386 billion active users, most of which are younger generations shying away from Facebook. Remember that the platform is always adding new awesome features, and it is an excellent platform to find influencers.
Twitter used to be the main platform for customer service, but Instagram's messenger API enables brands to interact with customers through live chat, find products, answer questions and many more.
Founded with the goal of spreading pleasure and inspiring creativity, TikTok calls itself the greatest destination for short-form mobile video. The social media platform has surely struck a chord as it is the youngest platform to market but has already noticed fantastic growth.
In 2017, the app became the fastest growing app globally after only one year. Despite attempts to prohibit the app in the United States and is banned in India, the platform had been downloaded two billion times globally as of 2020.
So, do you want to make friends with the Millennials of today? If you fall into this category, TikTok is the platform for you. As of January 2021, the time per user spent on the app have exceeded that for Facebook. Amazing, right?
TikTok is ideal for visual-based businesses such as beauty, retail, food, art, and some service industries. The platform is practical for targeting the 18 to 24 age group and establishing brand awareness.
Throughout its huge network of professionals, you will find over sixty-one million users in senior positions on this social media platform. Are you currently searching for decision-makers who have to power to hire for your business, stock your products or partner with you? If this is the case, you should be on LinkedIn.
That LinkedIn members earn more than the national median is the greatest aspect of this. Over fifty percent of people with a college degree utilize LinkedIn. You see, this social media platform is a focused social media network. Because of this, it may be linked with a select set of people who can have a significant impact on your company.
It's worth mentioning as well that LinkedIn boasts the biggest users among ages 30 to 49. It's also one-of-a-kind as it has a narrow focus. Individuals use this platform to look for jobs and to network professionally. This platform is helpful for general networking, B2B lead generation and recruiting employees.
Is your business related to sports, tech, politics, marketing, or entertainment? Then you stand to earn substantial engagement on Twitter. On this platform, brands have a chance to build and hone their voice—there is always a room to be personable and clever apart from being helpful and informative.
Feel free to jump into threads, give value, share your content, and join the nonstop conversation with your followers. Twitter is a fantastic way to get the word out about your company or product. It uses hashtags that classify conversations around a phrase or word.
By searching hashtags, you can learn what others are talking about you, allowing you to organize your tweets to participate in popular conversations. You may be asking yourself, why on earth would you do anything like that? Well, take note that Twitter can provide insight into what topics are currently trending. It's also often used by news channels to find stories.
Many brands combine Twitter along with offline engagements like events, as the platform is used to offer real-time updates to an audience.
Telegram is pretty much the same to most social messaging platforms and is often popular for how secure it is as a messaging app. You will find different ways your business can use this platform, apart from offering one-on-one customer support.
For instance, you can make chatbots for the platform or use Telegram's channel feature to broadcast messages to an infinite number of subscribers.
With more than 400 million users, people can use the app on their mobile devices, tablets, and laptops. It also runs on a cloud-based messaging service. You may also send voice, video, or text messages in addition to calling.
The app provides amazing features like the ability to add stickers, bots, and free downloads. It also allows you to pick a theme so you can make your messaging more personal and reflective of your brand.
You understand your networks. You know the why and how. All that is left is to get out there and put your plan into action. As more B2B companies learn the massive potential of social media platforms, we are going to begin noticing many success stories.
The goal is to create a presence and gain rapport with your audience and potential customers. However, you have to do that by engaging along with the correct content and social engagements for the platform. Make sure you also make a unique social strategy for every platform.
The content and message can be similar, but they should match the common interests of your network, be it blog posts, short videos, memes, or something else entirely. When you perform that efficiently, you can begin producing qualified leads to help hit your growth goals.