Affiliate marketing is considered the most reliable and easiest way to start an online business without capital. Just a computer, an internet connection, and your time are all you need to start. Millions of people around the world rely on affiliate marketing for a living. But what is affiliate marketing?
Marketing approach in which a shop pays a fee to another website for traffic or sales produced is known as "affiliate marketing." Affiliate marketing programmes are available on a number of eCommerce platforms in Thailand, and they may help you make some additional cash. In this post, I'll provide you a list of the top 10 Affiliate Programs in Thailand.
Let's dive in!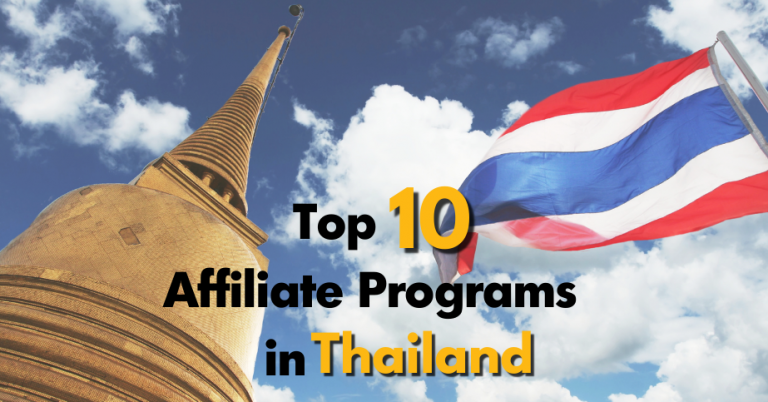 Awin's affiliate marketing program gives affiliates a wide range of brands to choose from. Awin in itself is not a retail store but a platform that connects you to several affiliate marketing programs from a wide range of brands, including TripAdvisor, Trip.com, ASOS, DJI, Speedo, AliExpress, etc. You can choose a program from these brands based on which one sells products/services you efficiently market.
Like Awin, CJ is not a retail website that sells products but a platform that connects affiliate marketers to a wide range of affiliate marketing programs. Whether you want global brands and those within Thailand, you will have various options to choose from.
When you get to their site, you will find several service-based affiliate programs for TripAdvisors, Hotels, and many hotel booking sites. There are also product-based affiliate marketing programs from some of the most popular eCommerce websites in Asia and the rest of the world.
If you are a travel freak, this is one of the affiliate programs you need to consider joining. As Thailand and several other countries worldwide are starting to revive their tourism industries, this is one of the platforms that you can take advantage of to earn some extra income as an affiliate marketer.
This website is strictly for booking accommodation facilities such as hotels, guest houses, apartments, and many. All you need is to add links to hotels and any other accommodation facilities that you can recommend to your audience.
This is another affiliate marketing program that you need to consider joining if you are into product niches. It has a wide range of products that you can link to in your blogs or description of your YouTube videos or podcasts. It is an Asian-based platform, so you will mainly be targeting people in Asia. SellZabuy offers its affiliate members a commission of up to 30% on every sale.
It is one of the newest affiliate programs that I can recommend to anyone in the product's niche. It is an eCommerce website with many products that you can link to your blogs and several other platforms. The platform is still in the beta phase and accepts influencers with a following of at least 10,000 on websites, including Facebook, Instagram, Tik Tok, Instagram, and many more.
Lazada is a top-rated eCommerce website in Thailand that sells a variety of products. If you are targeting a Thailand-based audience, Lazada is one of the ideal platforms you should consider joining. You can link any of their products in your website's content or social account and earn a commission when someone buys the products through any of your links.
Priceza is among the biggest affiliate marketing platforms in Thailand at the moment. It partners with several eCommerce websites to bring you over 62 million products that you can link in your blogs, YouTube video descriptions, or posts on social media. This platform uses the Adjusted Cost Per Click(aCPC) methodology, meaning you get paid every time someone clicks one of the links you share on your various platforms.
AMOT is the most ideal platform for creators into the fintech niche. If you share a lot of financial content on your social media and blog, this is the platform you need to sign up to. With it, we can learn quickly whether or not the leads we locate have been approved or rejected. This platform also pays through most Thailand-based banks every 30 days as long you have income on your account.
You cannot talk about affiliate marketing in Thailand without having Accestrade's name somewhere. It is one of the most reliable affiliate marketing platforms in Thailand that is ideal for those creating services-related content. If you are looking for a side hustle or a full-time gig that can earn you some extra income, this is one of the platforms you need to consider joining.
Accesstrade has three payment models, including Pay-on-sale (CPS), pay-on-subscription (CPA), and pay-on-click (CPC). You may choose any one of them depending on how friendly you find it. They also pay once every month through Thailand-based banks.
Involve Asia is probably the biggest affiliate marketing site in Thailand. It will connect you to some of the biggest websites in the world, including  Lazada, Shopee, JD, OfficeMate, Anello, Tesco Lotus, Nike, Microsoft, and many more. With Involve Asia, you can link a wide range of products and services, including I.T. products, technology, cosmetics, health products, insurance, and many more.
The ten programs we have shared above are the top ones in Thailand. If you want to get some extra income through affiliate marketing, these are some websites you need to consider. However, we recommend reading through their terms of service so that you choose one with terms that favor you.
You also need to consider the products and services that each offers and choose one with those that fall under your niche.
After decided which affiliate program to join, you can check out these 7 Ways To Promote Affiliate Links That Will Be Most Successful In 2022.